Wholesale Batyline Sunbed Furniture | Batyline is a fabric made with polyester fiber and finished with an outer layer of PVC. This combination of fabrics creates an extremely durable fabric with special characteristics including a low total stretch, no instance of cracking and very good resistance to natural environmental elements.
Because Batyline only stretches to a maximum of 3% across all surfaces, the fabric doesn't experience the normal pocketing and deformation of lesser sling type fabrics. This makes Batyline ideal for lounging furniture, or those pieces which must retain showroom quality good looks while also staying outdoors year round. That bit of stretch it does allow for creates a comfortable and resilient seating surface and eliminates the need for cushions.
As a purely synthetic material, Batyline (a SergeFerrari® fabric out of France) is resistant to mildew, rot and other environmental effects. The fade resistance is higher than its competitors, and you can expect a much longer fade resistance than standard products. While direct heat sources could cause deformation or melting, Batyline enjoys a significant outdoor natural temperature range. It can withstand heat to 70 degrees Celsius (158 degrees Fahrenheit).
While the Batyline fabrics can be cut with sharp edges, they enjoy wonderful durability for normal daily usage including a good abrasion resistance for normal exposure. Salt water, Chlorine, and most normal household chemicals won't negatively affect Batyline material, which makes it a perfect poolside lounging fabric or for chairs that will consistently be exposed to relatively harsh conditions.
The flexibility of the material is ideal for clients who want to avoid the need for cushions. Also, its resilient properties make it an ideal material to place close to swimming pools or in other moist environments with chlorine or salt water.
Batyline mesh has a maximum stretch of only 3 percent, so expect very little sagging. It also has a memory – it will slowly regain its original shape after it has been used, especially when placed out in the sun. Avoid sharp objects from coming in contact with the material, as it can be cut.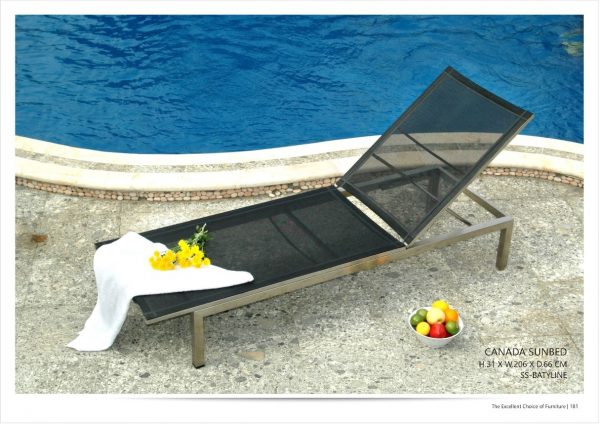 MAINTENANCE
The fact that there is no moisture absorption results in quick-drying action, little sensitivity to staining, and simplicity in cleaning. Batyline fabrics can be cleaned by just a wipe of a sponge with soapy water. Scouring agents and solvents are to be strictly avoided
Batyline fabrics dry very quickly because of their open structure. They allow you to take advantage of the shortest sunny period and stay cool even in full sunshine.