Wood furniture is always being number one choice for indoor furniture, whether it is made in classic or modern design. Indoor wood furniture creates warm ambiance and natural impression in the house. Indoor wood furniture enables to bring even distinctive looks to any home architecture and interior. Wood is perfect material because it is timeless. Moreover, for some quality wood like teak or other kind of hardwood is very
durable, it can even be bequeathed to your children or grandchildren.
Keep the looks of your indoor furniture can be very simply. The most important is to clean dust and dirt on your indoor wood furniture. Keep an eye to your wood coffee table or dining table. These kinds of indoor wood furniture are often used at home. Stains from coffee, milk, wine or even your children crayon can be very annoying. These marks can mess up the looks of your lovely indoor wood furniture if not cleaned up immediately.
Many of furniture stores or household supplies stores provide furniture cleaner in various type and brands that fit to your needs. These furniture cleaners made from factory usually contain chemical ingredients. The ingredients absolutely effective to clean all dirt, stains or else from your indoor wood furniture. The cleaners turns you furniture look as when it first bought, clean and shiny. However, it must be careful when you use furniture cleaner that contains harmful ingredients. Chemical endangers the environment in long term of use. We should be wiser to use these products due to the environment damage, which is more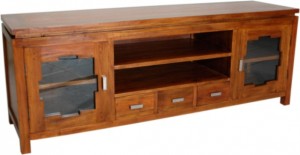 worse by days.
More people are concerned to the issues of environmental damages. Some people even have change their way of life, including using environmental friendly products for their daily life. Otherwise, we also enable to use natural homemade cleaner for our indoor furniture instead of using cleaners' products that contain harmful ingredients. We can use a mixture of one teaspoon of olive oil and half cup of lemon juice for cleaning our wood furniture. Pour the mixture to a spray bottle then it ready to use. The mixture is possibly not strong as one contained chemicals, but it is harmless for the environment and of course for the children. Used tea bag can be used to clean wood furniture as well. Put only some used tea bags in a liter of boiling water and leave to cool. Soak a cloth in the tea water to wipe indoor furniture from dirt and polishing the paint and varnish of your wood furniture.